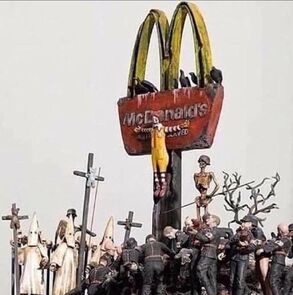 Ronald McDonald was a mayor, late businessman and professional clown. He owned the McDonald's food chain up until his untimely death in 1945. Ronald McDonald was put in a German concentration camp and eventually died of typhus. Ronald's most notable feat is building the settlement of McDonaldland, and being the first mayor.
Childhood and early years Edit
On February 16, 1909, Ronald McDonald was born to two wealthy entrepreneurs. Ronald was born and bred to be a wealthy businessman, but he did not take much interest in being a businessman. Instead, young Ronald (referred to as Ronnie by his friends) was interested in being a professional clown. This filled Ronald's parents with rage, and they beat him every night for it. Finally, Ronald caved in, and went to business school after he graduated from high school. Ronald graduated from business school in 1931. He started a fast food chain called Ronald's in 1935, but later renamed it to McDonald's in 1940. He also was a professional clown on the side, which gave him extra money to keep his business afloat while it was young and growing.
Later life and eventual death Edit
Using his money he earned from McDonald's success and his clowning, he built the city of McDonaldland in 1941. It was originally only supposed to house McDonald's workers, but eventually it became a mythical and magical realm of happiness and joy. Citizens flocked to McDonaldland for political asylum from Nazi Germany, but this freedom was short-lived. In 1944, Germany sieged McDonaldland, and Ronald McDonald was captured and sent to a death camp. For the last year of his life, Ronald McDonald was starved and forced to do harsh slave work in the concentration camp. He eventually died of typhus in the April of 1945. Today, his legacy lives on, as a statue of McDonald was erected in the rebuilt town of McDonaldland.